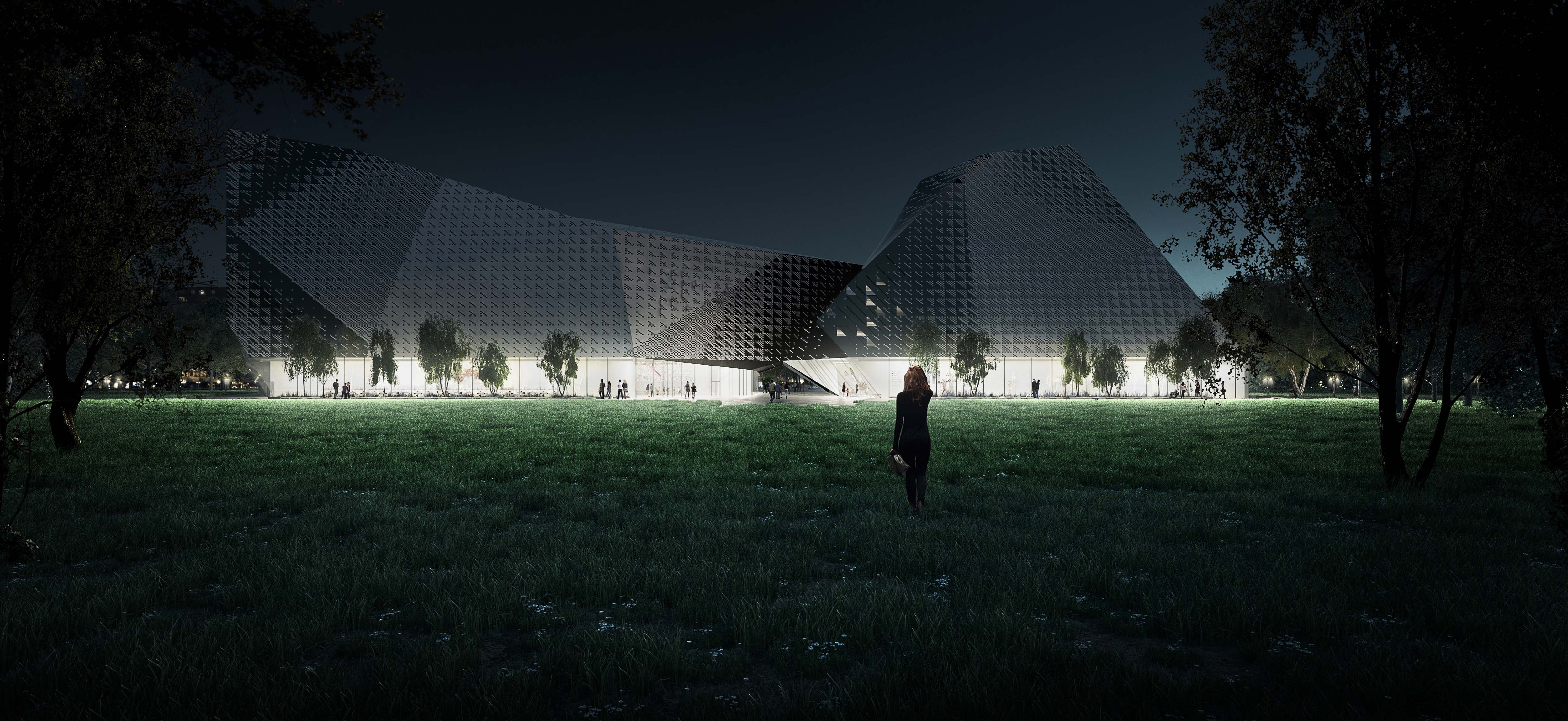 The New National Gallery and Ludwig Museum [NNGA & LMU] Building stems from a paradox presented by the competition brief: the problematic need to partially integrate two distinct cultural institutions within a single building so they can coexist independently from each other and yet interrelate with each other. Both conceptually and physically, the building is a composite mass of two distinct, discrete and adjacent volumes which leaning against each other engenders a larger and irreducible whole. The partial separation between these volumes is most evident at ground level, where a passage cuts entirely across the building. Aligned with the proposed promenade along the historical axis from the great meadow, this passage becomes a civic gathering space, a covered esplanade for the public and the access route per excellence for visitors approaching NNGA & LMU from the park or city side.

Our proposal aims to both seemingly integrate and drastically distinguish itself within its context. As a result, the building mass is both autonomous and contextual. The project comprises four vertically tapered hyperbolic shapes. Like truncated pyramids, these forms disrupt the otherwise horizontal volume of the NNGA & LMU building generating a distinctive iconic presence in the park. Much like the medieval castles in City Park, the building mass is both imposing and sublime. Unlike its neoclassical counterparts, the new proposal is also socially engaging by being permeable at ground level and pedestrian friendly.

The surfaces are articulated with an abstract dazzle pattern, which is projected in most of the building following the main public promenade across the City Park. The pixelated gradient nature of the texture intensifies towards the main entry passage where the two building volumes connect, enhancing visual experience and facilitating entrance. Being both graphically pleasing and materially quiet in its expression, the building appears at the same time iconic and mute, idiosyncratic and timeless. Because of its size as the largest cultural institution and its strategic position along the axis, the NNGA & LMU can play the role it deserves: that of an urban catalyst, becoming a substantial artistic hub within a metropolitan network of existing and new civic buildings in City Park and Budapest at large.





Team:
Marcelo Spina
Georgina Huljich
Daniela Atencio
Sophie Lauriault
Alex Blugerman
Henry Yang


Consultants;
Greg Otto (Walter P. Moore)
Transsolar